To edit a model saved to My Human:
1. Open My Human Library

 from the sidebar on the left and scroll to find your saved model. (How do I do this?)
2. Hover over the model's tile until three buttons appear.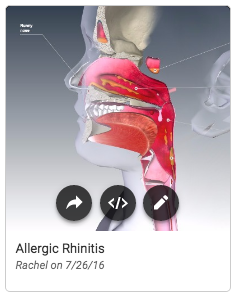 3. Select Edit 
. This will load the tour in Edit mode in the app.
4. When the model loads, you'll see an Edit 3D View window appear in the upper-left corner of your screen. Here, you can modify your model's title and description.
5. Make your desired changes to your 3D view (e.g., zoom in, add annotations).
6. When you're finished making changes, click Update in the Edit 3D View window.