The BioDigital Human mobile apps have gone through quite a transformation. Now it's easier than ever to explore the Human Library, save models to your Dashboard, and navigate in 3D on your iOS or Android device. In addition, the mobile apps now look and function just like the web app, which provides a consistent experience across all of your devices and a seamless transition between devices.
Along with the mobile app updates, we have also made a few changes to your Dashboard on both the web and mobile apps. 
"Dashboard" is now "My Library"
Product: Web app, iOS app, and Android app
The Dashboard has been renamed "My Library" to better reflect its purpose. Whereas the Human Library ("Explore") is a comprehensive collection of 3D models made available by BioDigital, My Library is a private or shared collection of 3D models that you or your team have decided you would like to save, customize, and/or publish.
If you belong to a team, My Library will contain two main sections:
Private Models (formerly "My Models"):

Models that you 

saved to your account

 and chose not to share with your team.

All Team Models: Models that you or other members of your team saved to their account and chose to share with your team. Within All Team Models, you may also have access to collections, which can be used to organize your team's saved models.
If you don't belong to a team, My Library will contain any models that you added from Explore, as well as any models you edited and then saved in Human Studio.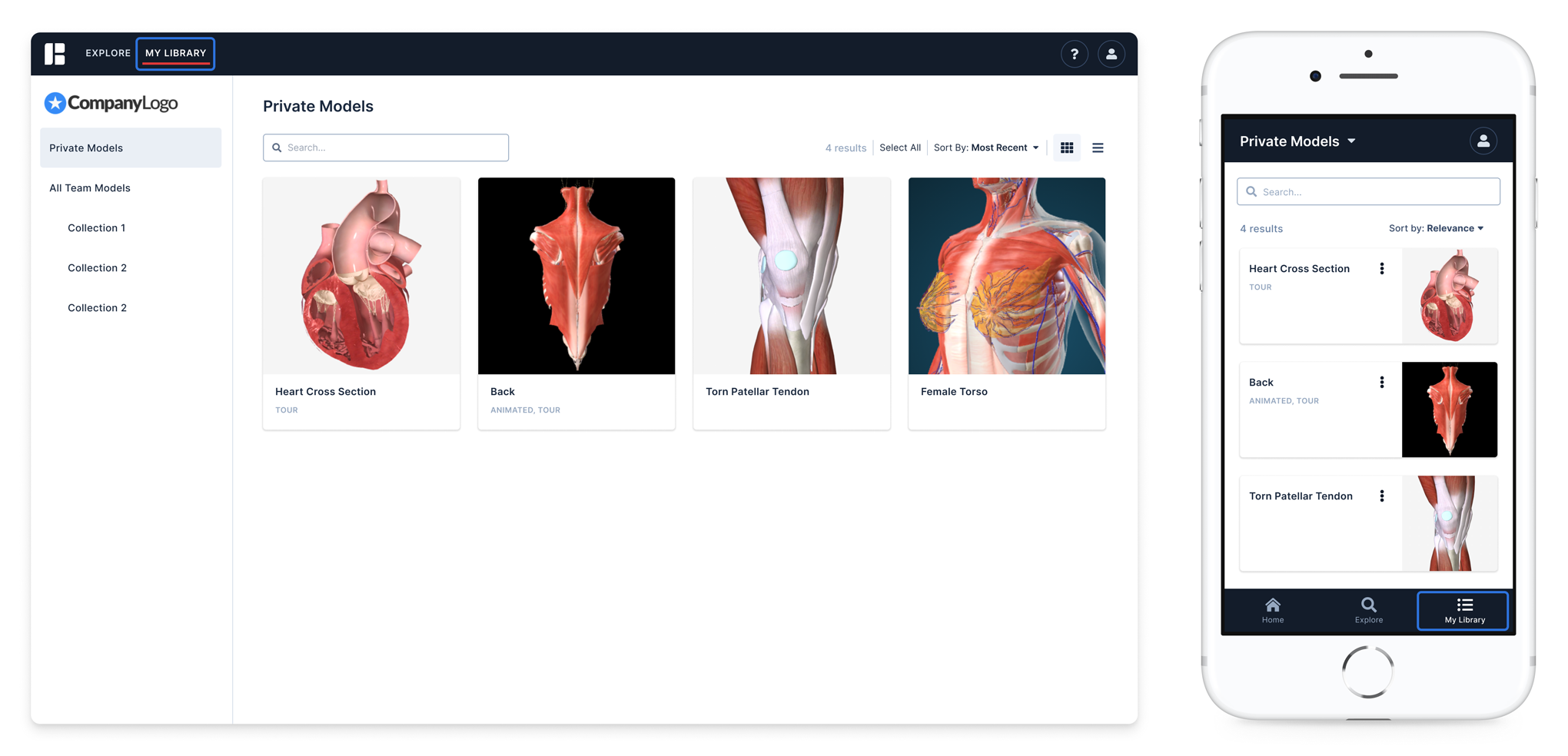 New homepage
Product: iOS app and Android app
We've introduced a brand-new homepage, where you can quickly search for a topic or skip to a 3D model category. To return to the homepage at any time, click the Home icon in the navigation menu at the bottom of your screen.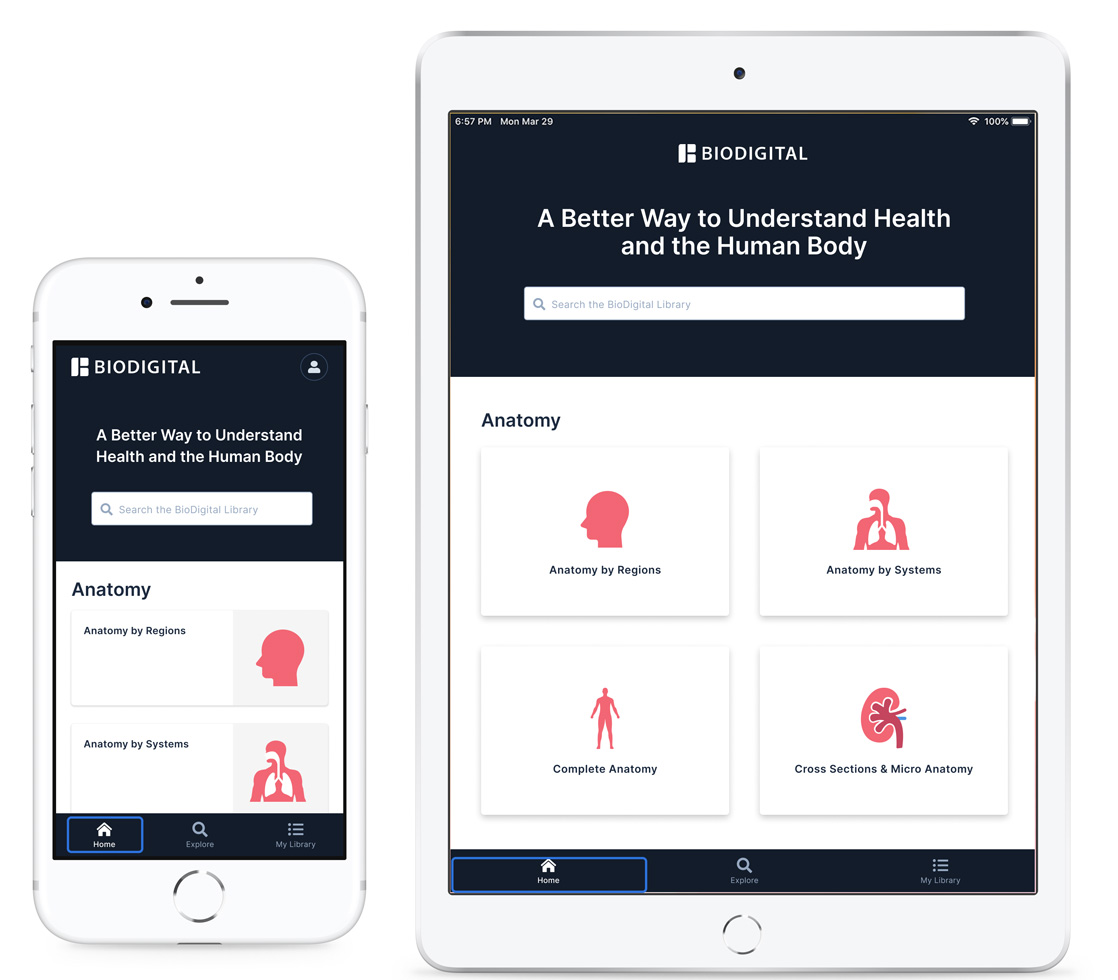 "All Models" view in Explore
Product: iOS app and Android app
We've added a new section to Explore called All Models, which provides a comprehensive list of 3D models available in the Human Library. When you sort by "Most Recent," you can now browse a list of models that have recently been added. Never miss out on our latest content again!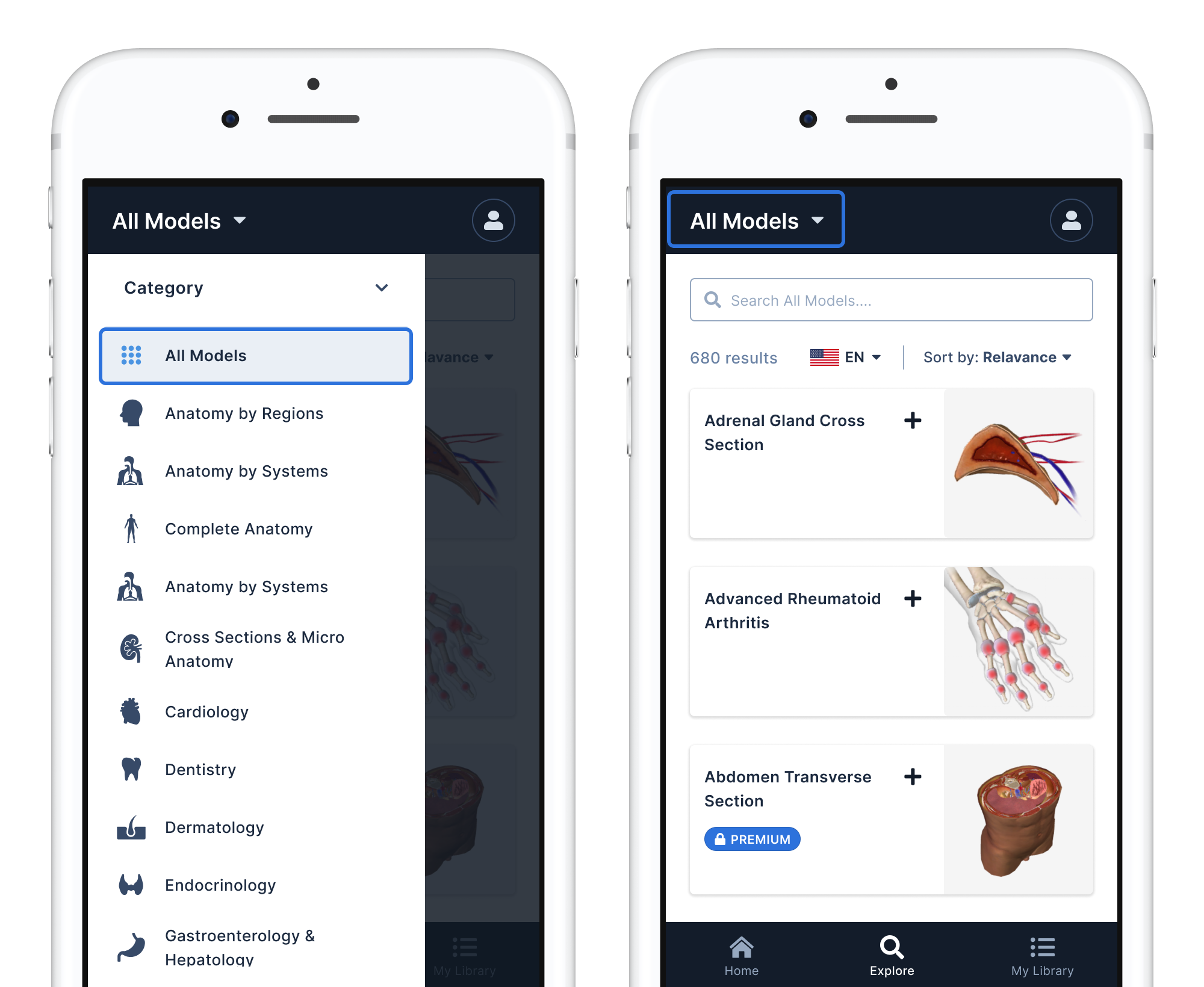 New model categories in Explore
Product: iOS app and Android app
The categories in Explore used to be based on body systems, like Blood, Heart, and Circulation and Kidneys and Urinary System. The Human Library is now organized into clinical specialties, such as Cardiology, Dermatology, Nephrology, and Oncology & Hematology. This new organizational system is designed to make it easier for educators and students alike to locate models of interest, as well as to give a "home" to topics that are not specific to one system, like cancer, pediatrics, and rheumatology.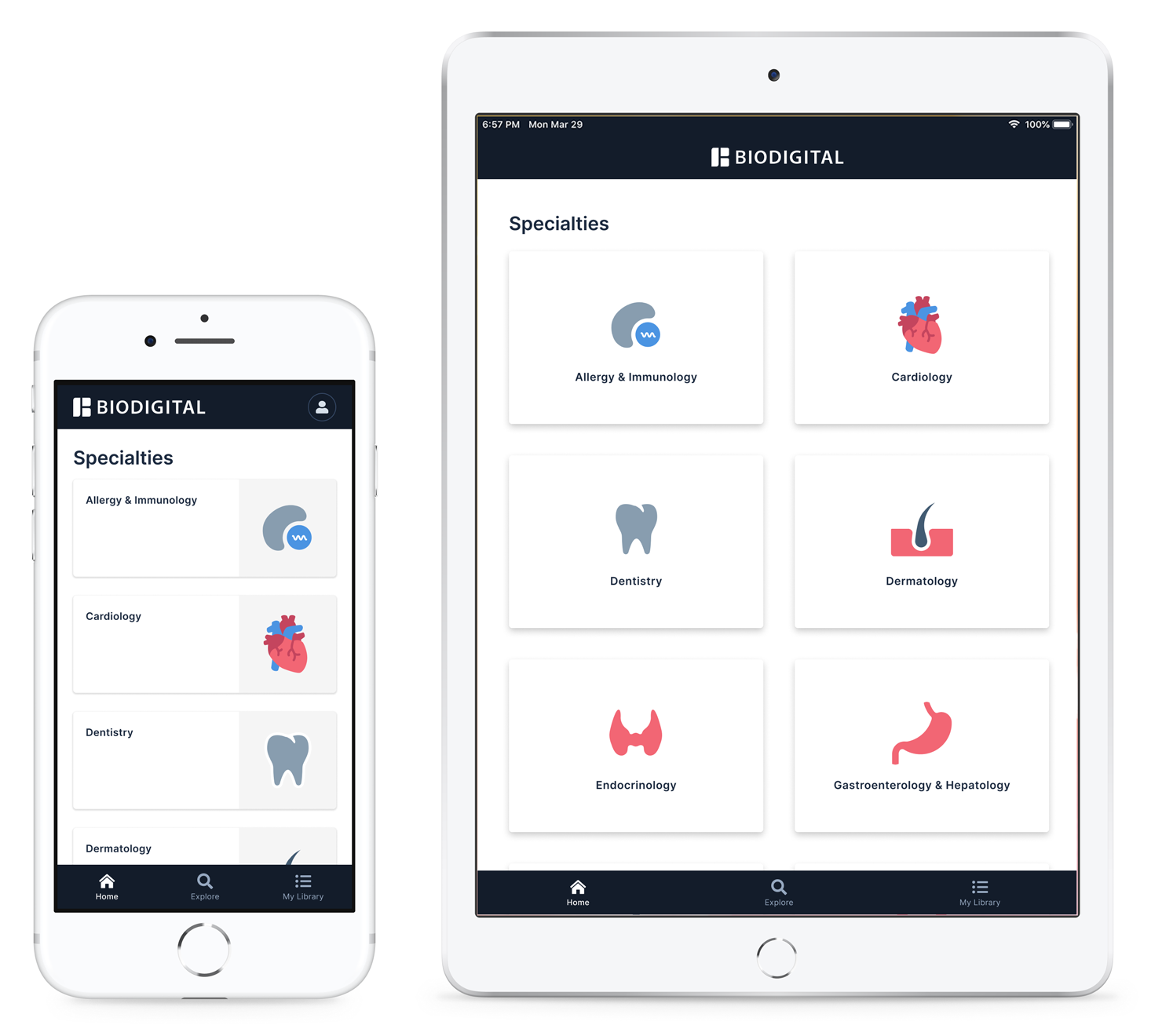 We've also introduced a new Cross Sections & Micro Anatomy category, where you'll find a comprehensive set of gross- and tissue-level anatomical cross sections.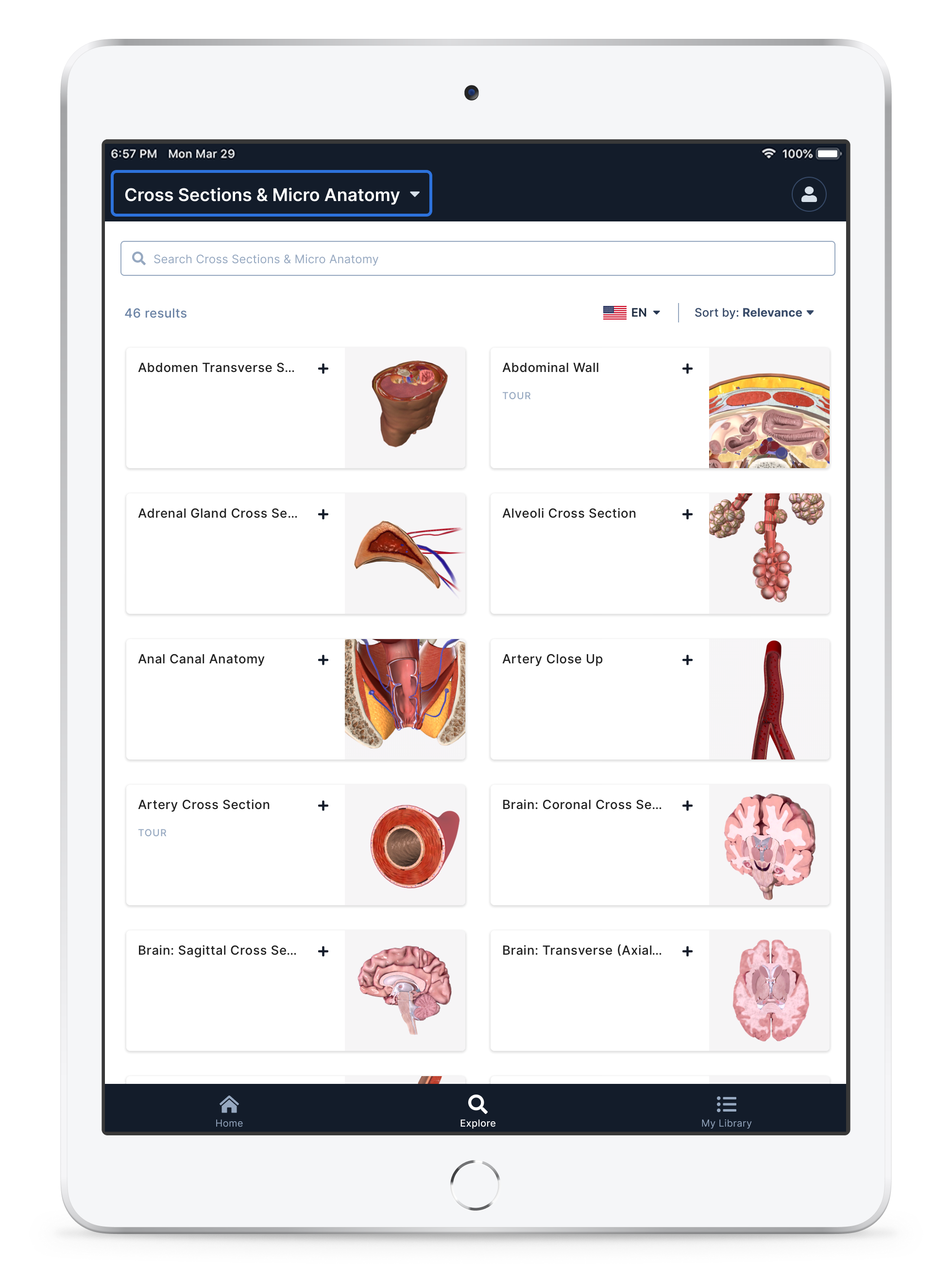 Language Settings
Product: Web app, iOS app, and Android app
Your language settings are now accessible from the Explore page on web and mobile so you can more easily switch languages and browse the Human Library in your native language or any other language. Simply click or tap the flag icon in the upper-right corner of your screen to open the drop-down menu and select another language, and the Explore page will reload in that language. (Detailed instructions here.)
For instructions on how to save a model in another language, see Save a model in another language.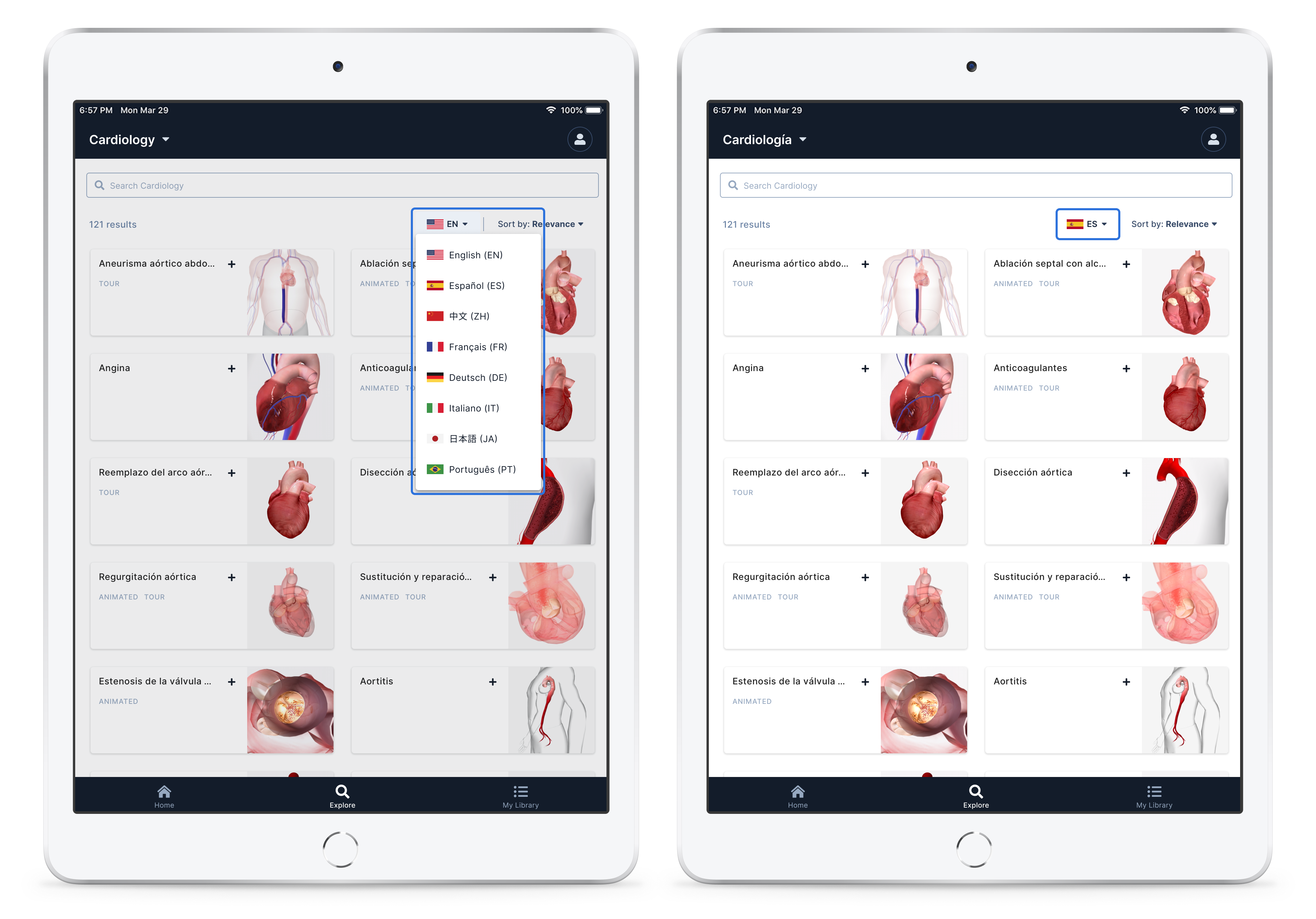 Search within My Library
Product: iOS app and Android app
My Library (formerly your "Dashboard") is now searchable! Use the new search feature in Private Models, All Team Models, or individual collections to find models you or your fellow team members have previously saved. Your search will look for matches in the model title.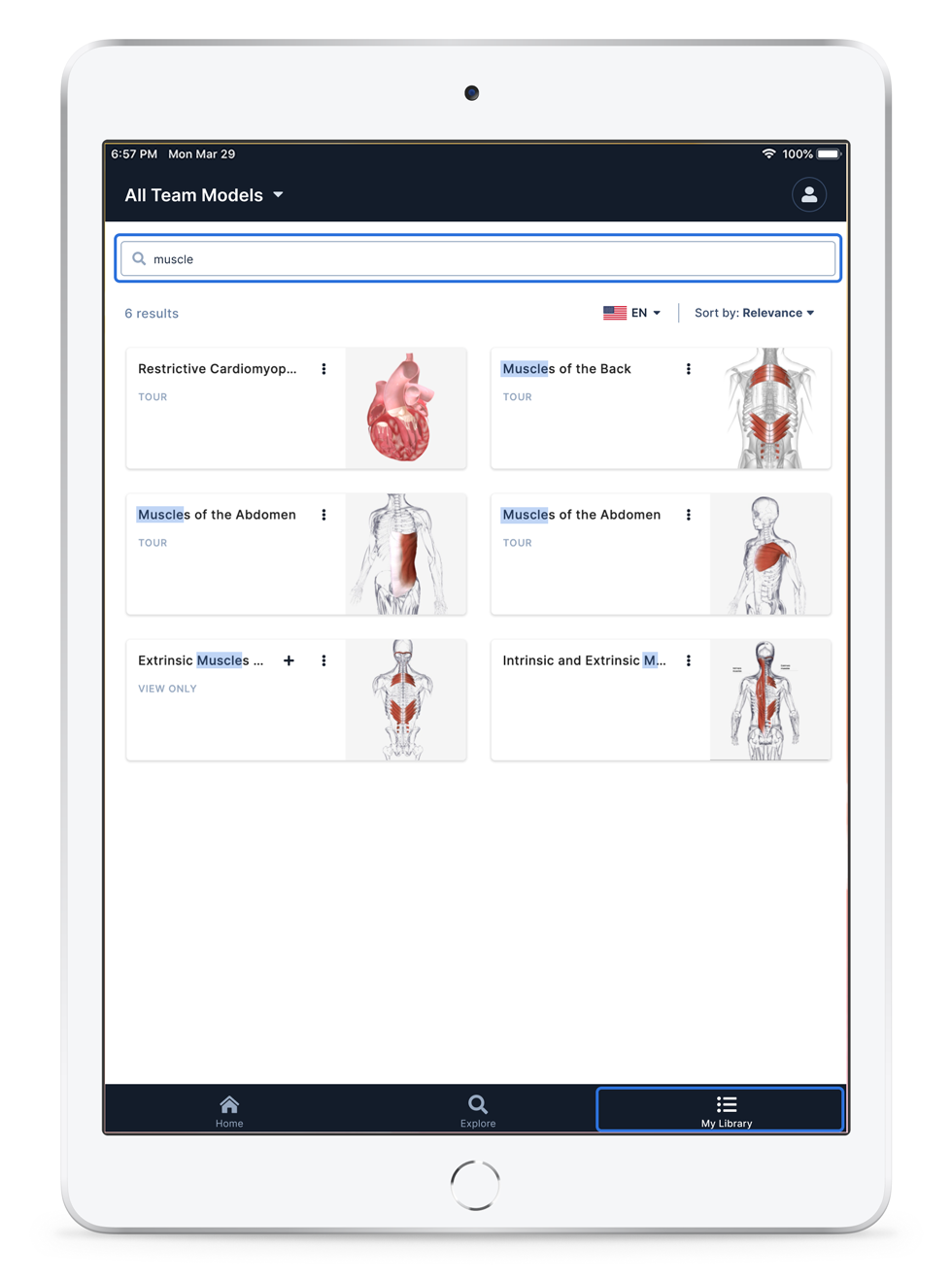 New 3D Exploration
Product: iOS app and Android app
Our toolbar has been consolidated into a single menu, making them easier to use and bringing more value to the learning experience. These tools include:
Search: The

new Search tool enables end users to search for specific anatomical structures in the 3D model by name. 

Layers: The new Layers

tool allows end users to easily peel on/off a group of anatomy structures. This feature is great for quick navigation to a particular area in the body and helping learners understand spatial relationships between structures.

Explore: The Explore toolbar now includes Select (default), Hide, and Fade. These tools were formerly Dissect, Isolate, and X-Ray.
Draw: The

 

Draw tool allows you to draw anywhere on the image to point out key

structures, shapes, relationships, or processes. 

Help:

The new Help menu has been upgraded with richer, more user-friendly graphics that illustrate 1) the primary ways to interact with a model ("Navigation Basics") and 2) a comprehensive 3D navigation key that adapts based on the device type ("All Controls").
Besides promoting interaction with the model, these tools allow end users to identify specific structures, reveal underlying structures, and visualize anatomical relationships.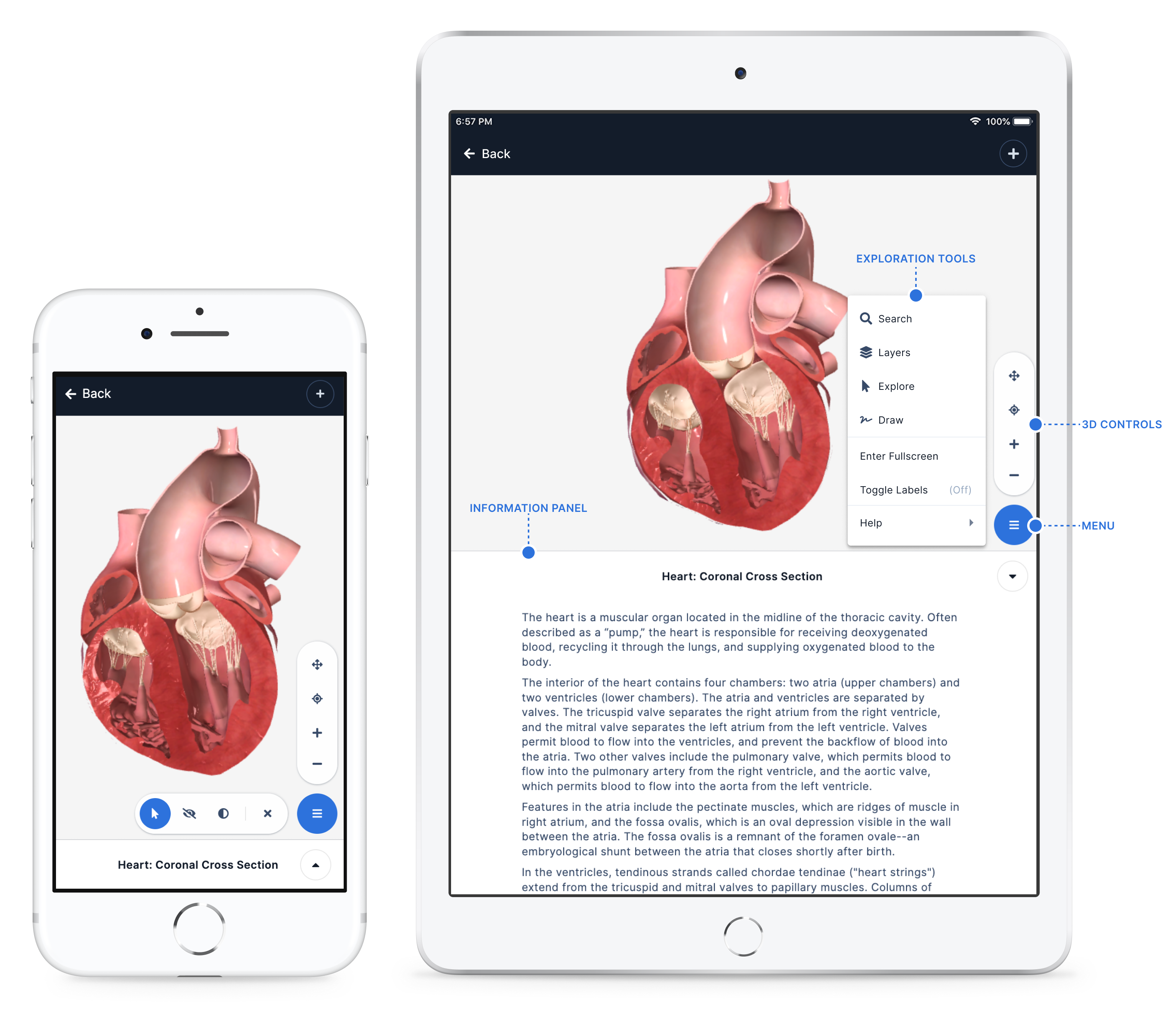 ---
FAQs
Where did the Quiz feature go? 
We've been working hard transform the mobile experience to make it easier than ever to study anatomy with the BioDigital Human. In order to make these improvements, we had to temporarily take down the Quiz feature. But the BioDigital Product team is working on a plan for reintroducing this functionality, so stay tuned for updates on this in the coming months!
Update (July 2021): While you wait, check out our Quiz Builder! This new authoring tool in Human Studio allows you to build your own custom 3D quizzes to complement your study materials.