In BioDigital's Quiz Builder, the Select Anatomy in 3D question type is the most unique of all of our quiz question types, as it requires the learner to select specific structures in the 3D model. You can even increase the difficulty of these questions by requiring the learner to rotate, zoom, or even hide structures to find the structure they're looking for.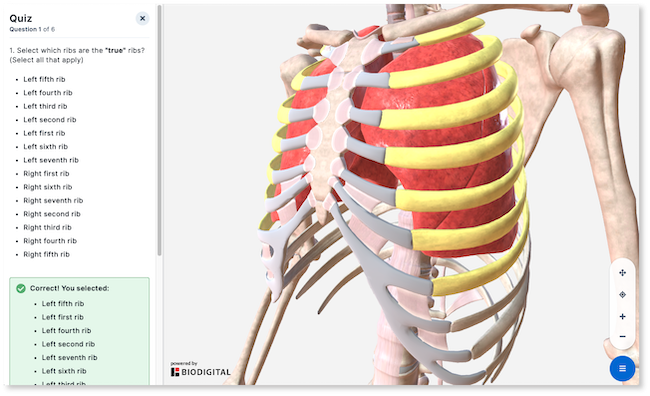 Select Anatomy in 3D questions can be used to gauge a learner's familiarity with the placement and positioning of anatomical structures, in addition to several other learning objectives:
Identify anatomical structures

Identify the anatomical structures affected by a disease

Describe the relationships between multiple anatomical structures

Recall the function(s) of anatomical structures
To create a Select Anatomy in 3D question:
In the Quiz panel on the right side of your screen, click

Add Question

.

Select

Select Anatomy in 3D

from the drop-down menu.

In the

Question

field, enter the question you would like to ask. (You can enter something as simple as "Please select the following structures in the model" or customize it to your liking.)

Click on the structure or structures in the 3D model that you would like to quiz your learners on. The learner will be expected to select all of these structures in the model by name.

(Optional) By default, the names of the structures you have selected will be listed below the question text you entered in step 6. If you do

not

want the structure names listed below your question text (for example, if you already named the structure in your question text), uncheck the box next to

Show answer list in the question text

.

In the

Answer Explanation

field, you can explain to the learner why the correct answer is in fact correct in case they get it wrong.

You have two additional options in the Advanced

tab:

Custom Starting Position: If you would like the model to appear in a slightly different starting position when the learner is viewing this quiz question, save a custom starting position for your quiz question by taking the following steps:


Use your

mouse, keyboard, or 3D controls

to reposition the model as desired.

When your model looks exactly how you want it to look when the learner enters this quiz question, click the

Mark Position

. This will save the current position as the new starting position for this quiz question.

Next Button Text: Customize

the text that appears in the button that takes the learner to the next question (if there is one). If you leave this field blank, this button will say, "Next Question."

Once your question is complete, you can take any of the following steps:
Add another question to your quiz: Simply scroll down and click

Add Question.

Preview your quiz

to from the quiz taker's perspective.

Publish your quiz

so you can embed it into your LMS, website, or application.