The BioDigital Human Platform is designed to be interactive, but if you need a 2D image for a presentation, or you're unable to embed a 3D interactive model into your website, there are currently two ways to capture a 2D image of your 3D model:
---
If you don't need labels in your image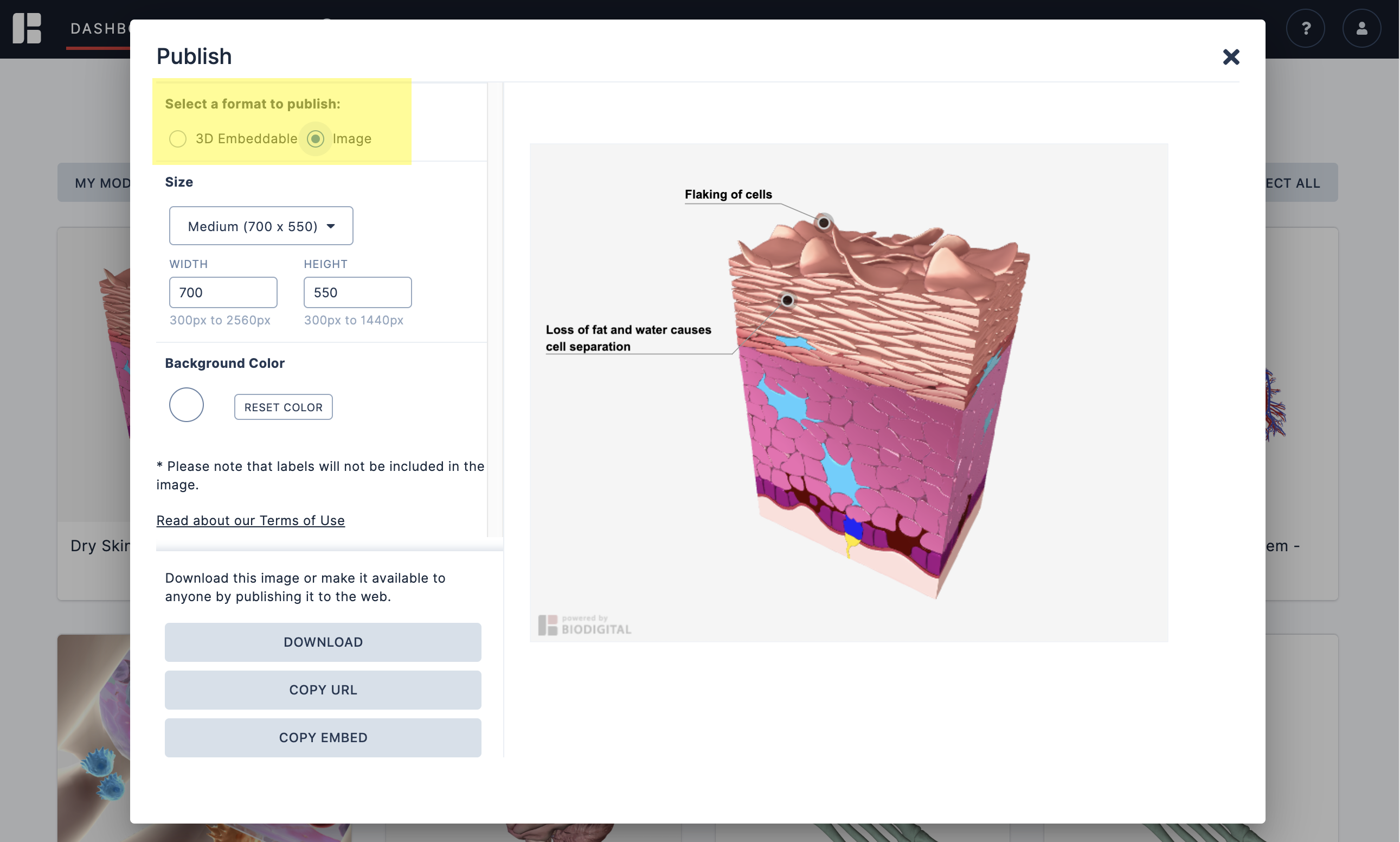 If you don't need or want labels to be included when publishing your 2D image, take the following steps:
1. Open the Publish window from your Dashboard or Human Studio. (If you are publishing from Human Studio, you will be prompted to save your model if you haven't done so already.)
2. In the Publish window, select Image under Select a format to publish.*

3. Choose a size for your image (small, medium, large, maximum), and the preview image on the right will update accordingly. If you'd prefer, you can choose a specific height and width instead. 
4. (Optional) If you'd like to change your model's background color, click on the color picker and select a new color. You can always click Reset Color to revert back to the default off-white background.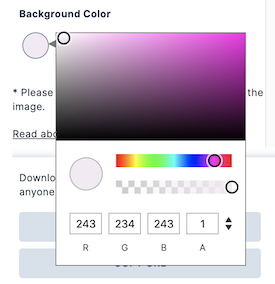 5. Choose your publishing format:
•   Download downloads the 2D image as a jpeg file to your computer's Downloads folder.
•   Copy URL copies a link to the hosted image to your computer's clipboard. This will enable you to hyperlink to this image in a presentation, document, or website.
•   Copy Embed copies an iframe of the image and its source 3D model to your computer's clipboard. When embedded, the iframe will display the 2D image, and when clicked, the fully interactive 3D model will load in a new browser tab.
*Note: Even though you see the labels on this screen, they will not show up in the final image.
If you do need labels in your image
Our Publish to Image feature, which allows you to export a 2D image of your 3D model, does not currently include labels in the published image. If you need or want labels in your image, you can generate a 2D image of your 3D model by taking a screenshot and then manually adding the "Powered by BioDigital" watermark to the image using an image editor like Adobe Photoshop or Microsoft Paint.
Download the BioDigital watermark
Click the links below to download the "Powered by BioDigital" watermark in color or white (use white for dark backgrounds).
Take a screenshot
Mac (OS X)
PC (Windows)
On an PC, you can either use the Print Screen button on your keyboard or the Snipping Tool application.