In the BioDigital Human VR app, you can experience the BioDigital Human in extended reality for the best immersive experience in anatomy education. 
Use this guide to learn how to set up your Meta Quest headset, install the BioDigital Human VR app, and start familiarizing yourself with your new virtual learning environment.
Step 1: Join your BioDigital Human team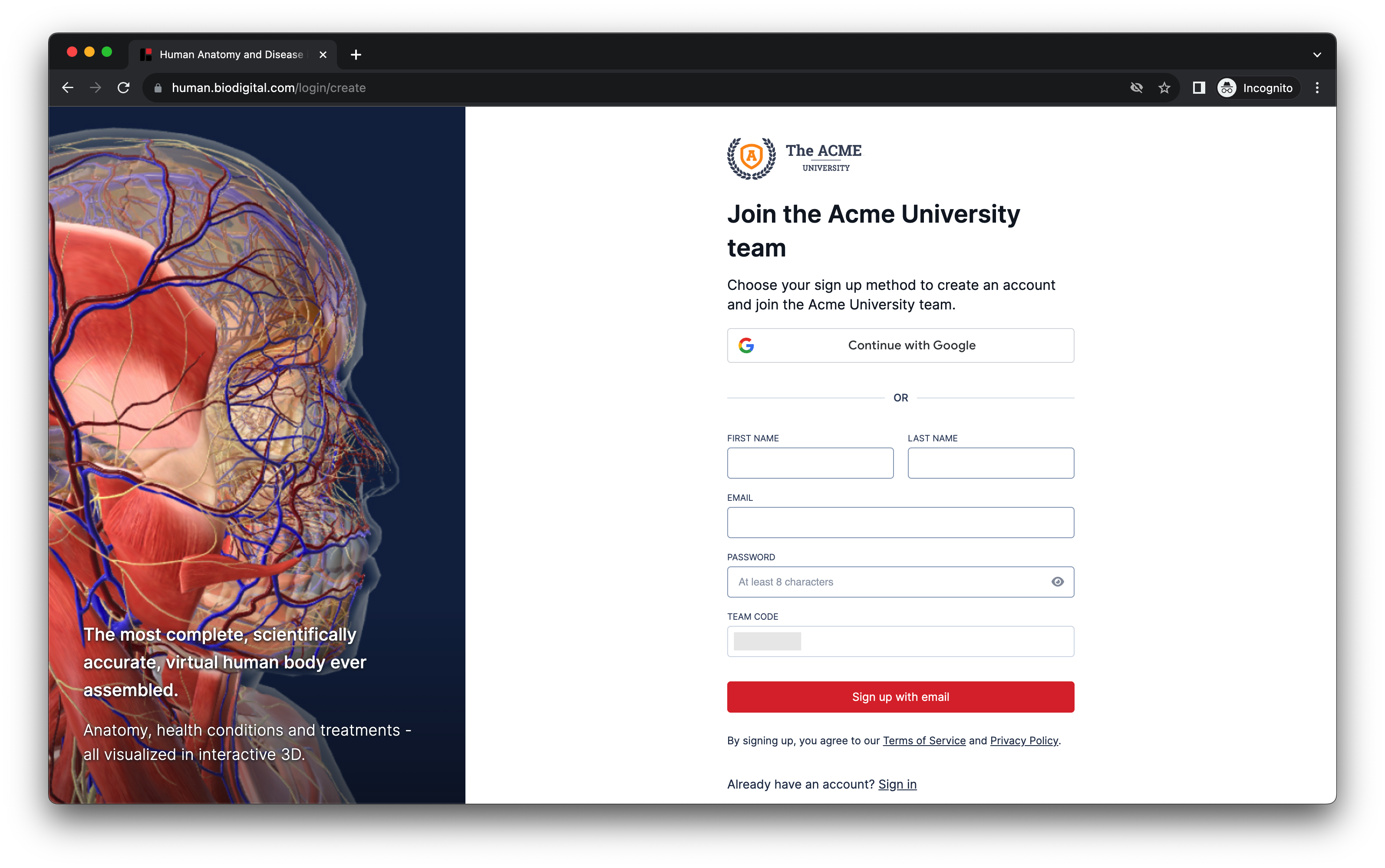 Create your BioDigital Human account and join your team following the instructions provided by your BioDigital representative. We recommend completing this step on a computer, but you can also join your team on a mobile device.
Note: This step must be completed before you can proceed to Step 4: Log in to your BioDigital Human account.
Step 2: Set up your headset
Consult this Meta article to set up your Meta Quest 2 headset. You will be guided through initial setup, connecting to wifi, adjusting the fit and feel of your headset, and taking your first steps in VR. It also offers troubleshooting tips if you get stuck along the way.
To finish finish setting up your Quest, follow the in-app tutorial.
Step 3: Install the BioDigital Human VR App
Once you have joined your team and completed the initial setup of your headset, you are ready to install the BioDigital Human VR app on your device:
Select the Explore icon from the universal menu.

Select the search bar and enter "BioDigital Human."

Under App Lab, select View App.
On the next page, select View Details and then Get.

Note: Installation may take a few minutes.

Once installed, the app is stored in the App Library on the right side of the universal menu.

Step 4: Log in to your BioDigital Human account
You are almost there! To access the app, you will just need to log in with the user credentials you set up in Step 1: Join your BioDigital Human team:
Select the email field on the home screen.
Using the pop-up keyboard, enter your email address and password and select Sign In, or sign in with Google.
On the next screen, select Launch Human.
You will know you are logged in successfully when you see the body begin to load.

Step 5: Select a 3D anatomy model to explore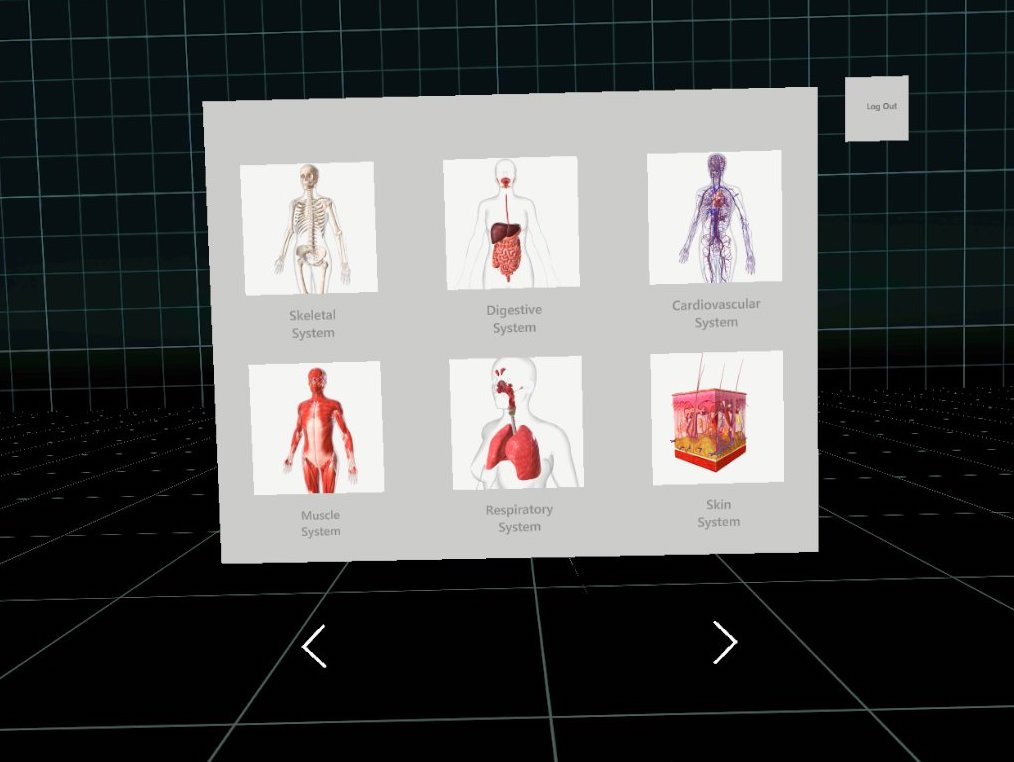 Now you should see a gallery containing our 3D model library. Use the left and right arrows to browse our available models, and use your controllers to select an anatomy model you would like to explore in VR.
The following models are currently available in our VR app:
Skeletal System
Muscular System
Cardiovascular System
Nervous System
Respiratory System
Digestive System
Connective Tissue System
Reproductive System Male
Reproductive System Female
Lymphatic System
Back
Head and Neck
Upper Limb
Lower Limb
Male Thorax
Female Thorax
Female Pelvis
Beating Heart
Step 6: Configure your learning environment
Before you start interacting, we recommend taking the following steps to configure your physical and virtual space for an optimal learning experience:
Clear enough physical space around you to enable you to gesture, reach, and move around while you interact.
Make sure there is enough light in your space, especially if you are using your hands to interact.
Decide if you would like to enable BioDigital's custom "environment," or background, which is disabled by default. To enable it, select the Environment button on your podium.
Reposition the podium and description panel as needed to so that they are close enough for you to read.
Reposition the model as needed so you can see and access it easily. To do this, you can use one of two tools available on your podium:

Body Position Menu.Use the dials to move the model in a particular direction (move left/right, move up/down, move far/close, rotate in/out, rotate left/right).
Group.Press and hold both trigger buttons on your controllers while dragging the model to reposition it to your liking.

Step 7: Learn how to interact in VR
Now that you have set up your physical and virtual environment to your liking, you can learn how to interact with the model using either the controllers that come with your headset or your hands, or "hand tracking." We recommend that you start with the controllers first, and then try hand tracking later once you feel comfortable in VR.
Controllers
The controllers that come with your Meta Quest not only enable you to interact with the model with ease, but they are also programmed with shortcuts for a more seamless experience.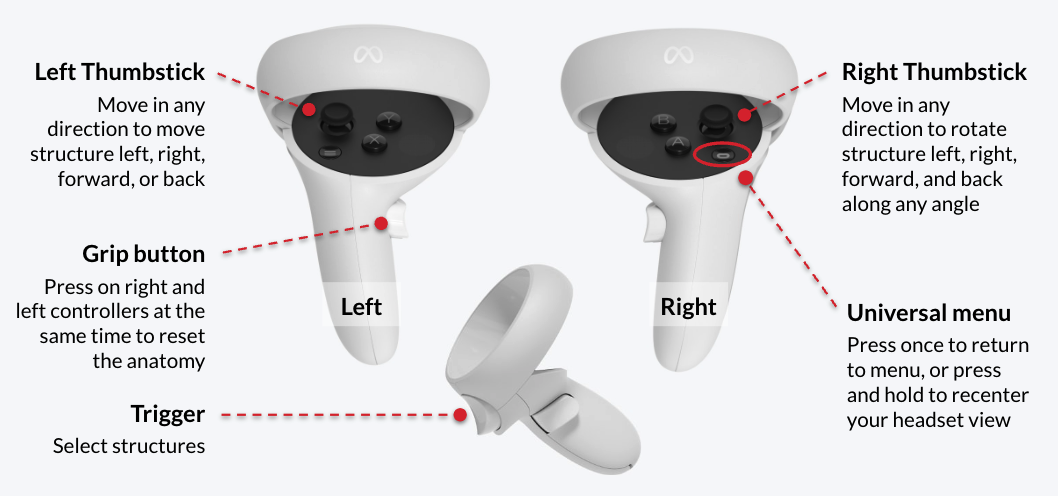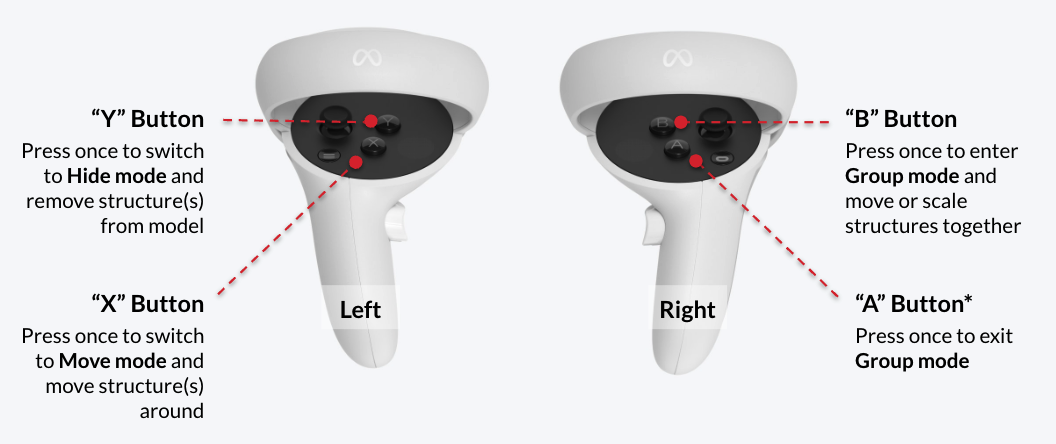 Hand tracking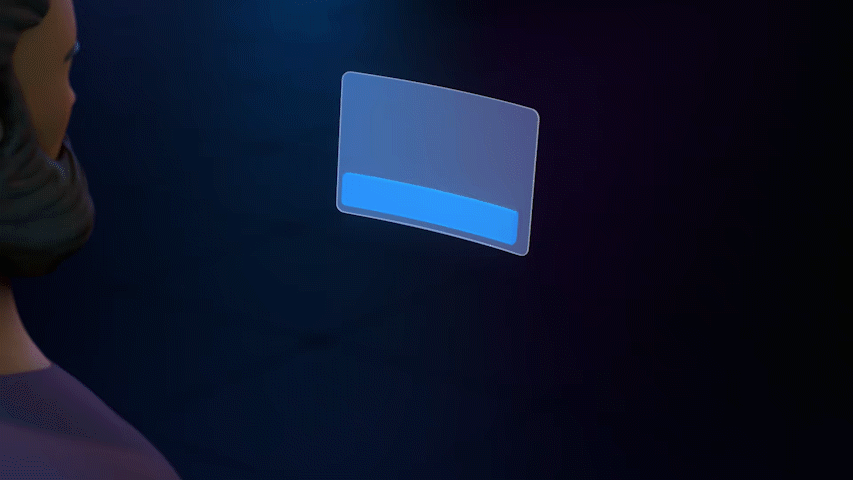 Once you are comfortable using your controllers, try hand tracking for a more tactile experience.
Before you get started, you will need to enable hand tracking on your headset by following the steps under "Turn Hand Tracking on or off" in this Meta article: Getting started with Hand Tracking on Meta Quest headsets.
Once you have enabled it on your headset, take the following steps to start interacting with your hands: 
Set your controllers down on a level surface to activate hand tracking.
To select an object, point at the object and pinch.
To scale an object up or down (i.e., make it bigger or smaller), pinch with both hands and drag your hands toward or away from one another.
Step 8: Familiarize yourself with your interaction tools
Tool Podium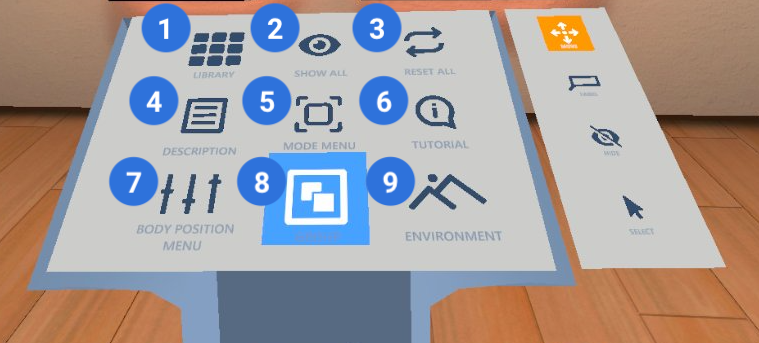 The tool podium is your central control panel of tools and settings. 
| | | |
| --- | --- | --- |
| 1 | Library | Return to library to select a new model |
| 2 | Show All | Restore all hidden structures |
| 3 | Reset All | Reset model, podium, and panels to default positions |
| 4 | Description Panel | Toggle description panel on/off |
| 5 | Mode Menu | Toggle mode menu on/off |
| 6 | Tutorial | Play video tutorial |
| 7 | Body Position Menu | Adjust your view of the model |
| 8 | Group | Group structures together |
| 9 | Environment | Turn environment on/off |
Tip: To reposition the podium for a closer view, grab it and drag it to your desired position.
Mode Menu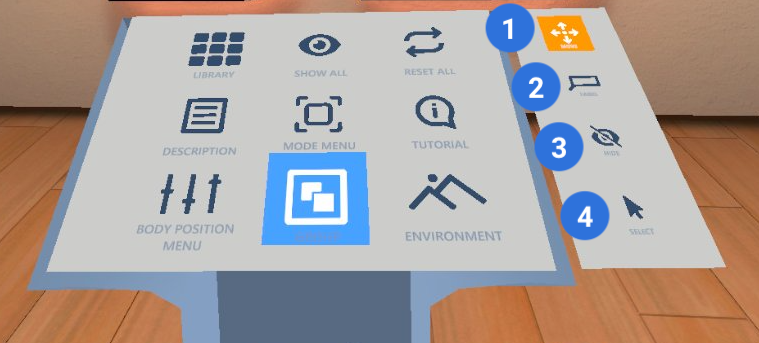 The mode menu, which can be toggled on and off using the Mode Menu button on the tool podium, is an independent toolbar that enables you to toggle between four modes of interaction: Move, Label, Hide, and Select. Changing your mode will change the action triggered by your selection of any structure on the 3D model using your controllers (or hands if you are using hand tracking).
| | | |
| --- | --- | --- |
| 1 | Move | Select, move, and scale structures |
| 2 | Label | Apply labels to any structure you select |
| 3 | Hide | Virtually "dissect" the model by hiding structures, revealing structures that are hidden beneath |
| 4 | Select | Discover a structure without removing it from the full model |
Note: The mode menu is detachable from the podium. See next page for details.