Every model and tour chapter in the BioDigital Human library has a default starting position. This means when the viewer enters the chapter, the model will appear in a specific position in 3D space.
Why do I need to update my starting position?
If you've customized your model – say, zoomed in on a particular organ or vessel, or panned the model over to focus on the hand – your model's original starting position will not always suit your updates. In this case, you'll need to update your starting position to reflect your changes.
For example, let's say you open the Female Cardiovascular System in Studio, use the Anatomy Tree to isolate the heart and pulmonary circulation, and center the model on the screen. If you save the model without updating the starting position, the model will revert back to to its default starting position when you publish it. And this is what it will look like to viewers:
If you want the model to load with the heart and pulmonary in the center of the screen, update your starting position before you save, and it will look like this instead: 
How do I update my model's starting position?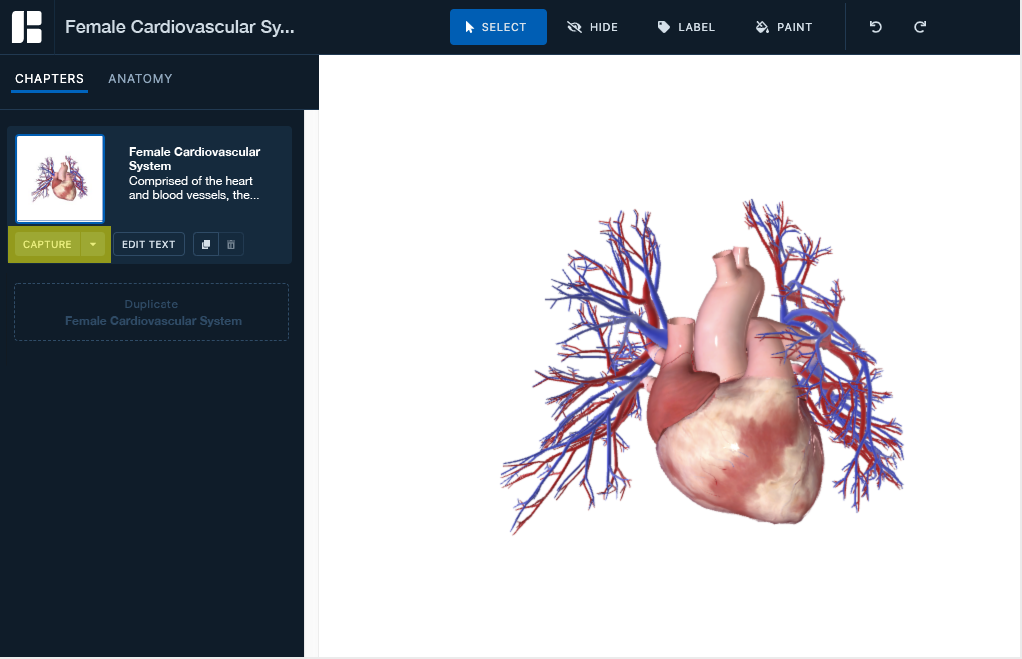 To update your model's starting position:
If it isn't already, open your model in Human Studio.

Select the chapter you want to edit:

If your model has multiple chapters, all of them will appear in the

Chapters

panel on the left side of the page.

Click on the chapter you want to edit to 

make it the active chapter.

If your model only has one chapter, this chapter will already be selected in the Chapters panel.

Customize your model and use the 3D navigation tools to reposition it as desired. 
When your model looks exactly how you want it to look when the viewer enters the chapter, click the Capture button below your chapter's thumbnail. This will save the current position as your starting position.*
*Note: Pressing the Capture button actually updates two aspects of your model:
Your starting position
The thumbnail associated with your chapter (i.e, the image that gets displayed for your chapter when you load your model in View or publish it outside of the BioDigital Human)
If you'd like to update only your starting position or only your chapter's thumbnail, click on the arrow next to Capture and select Capture Position Only or Capture Thumbnail Only.