Team Administrators can now create and manage their own collections to keep their team's content organized. Educators and learners alike will also benefit from a few upgrades to our 3D quiz experience.
Create and manage your own collections
Product: Web app and mobile apps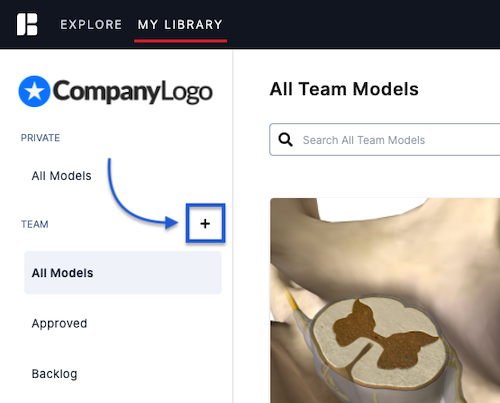 If you are a member of a team, your team's Administrator(s) can now create, edit, and delete collections in My Library— all without the assistance of BioDigital's Customer Experience team!
Collections enable you to organize the 3D models saved in the Team section of My Library into custom folders. Use collections to categorize your team's models by project stage, department, body system, course or product title — any system that supports your team's workflow.
For more information, see the following articles:
Enhancements to the 3D quiz experience
Product: Web app, mobile apps, and Human Viewer
After introducing several enhancements to our 3D quizzes in December, we have made two more updates to improve the experience for learners:
Download quiz results

Visually compare correct and incorrect answers in "Select Anatomy in 3D" questions
1. Download your quiz results
At the end of a quiz, learners now have the option to download an image of their score and question-by-question results. The downloaded image can be submitted to an instructor via email or an LMS, or simply saved for future reference.
To download the results of a quiz, click on the Download Results button at the end of the quiz.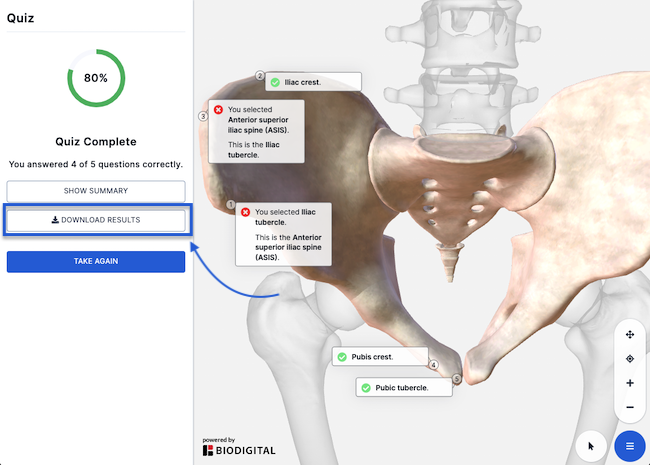 The resulting image file will contain the following information:
Quiz taker's name and email address (only available in the web app, not in the Human Viewer)
Quiz score (%)
Number of questions answered correctly (e.g., 4 out of 5)
Quiz taker's answer to each question and whether it was correct or incorrect 
Note: This information is also available on the quiz Summary page, which can be accessed by clicking on the Show Summary button at the end of the quiz.
2. Visually compare correct and incorrect answers in "Select Anatomy in 3D" questions
When the learner clicks Highlight My Answer or Highlight Correct Answer in a Select Anatomy in 3D question, the associated anatomical structures remain visible, while the Fade effect is applied to the rest of the structures in the model. 
"Highlight My Answer"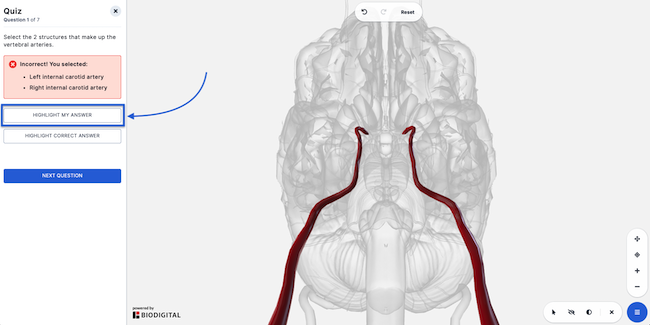 "Highlight Correct Answer"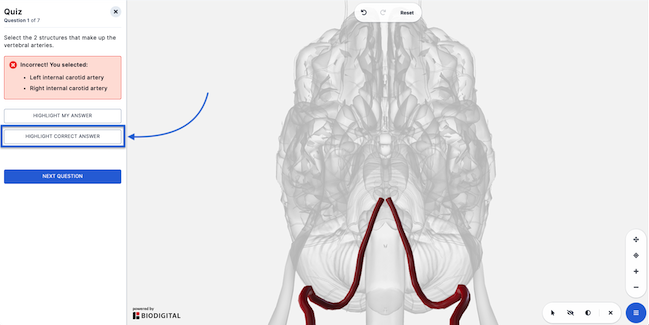 In addition, if either answer ("my answer" or "correct answer") is a single anatomical structure, clicking either button will zoom in on the structure so it is easier to see.
Original view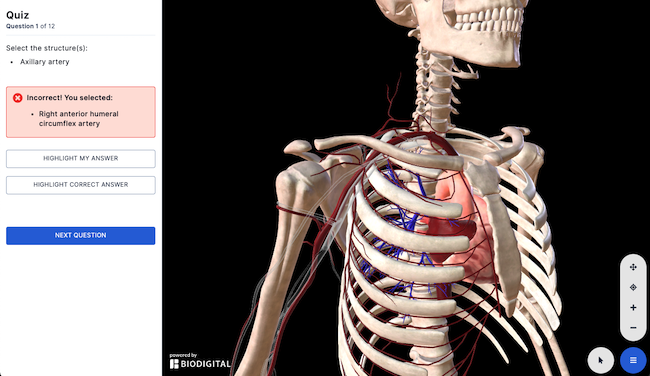 After clicking "Highlight Correct Answer"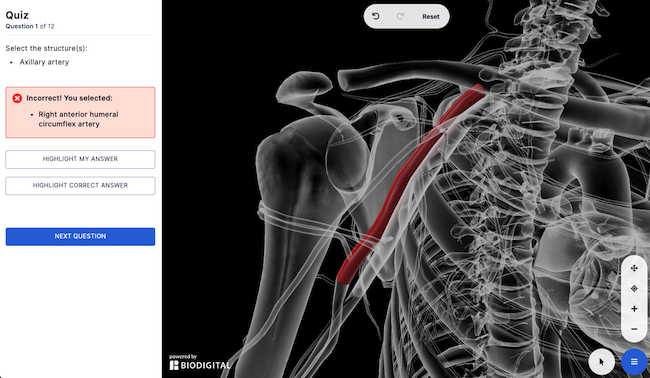 This update makes it easier for learners to distinguish their incorrect answers from the correct answers and understand the spatial relationships between the highlighted structures and the rest of the model.