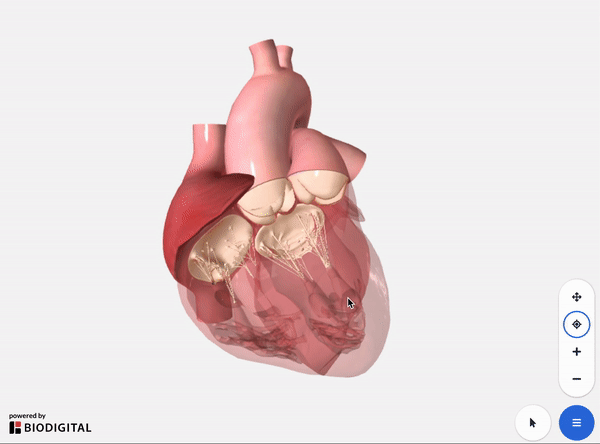 When you make an anatomical structure "unselectable" in Human Studio, you can no longer click on it to select it. It essentially becomes a "ghost" structure—still visible, but unable to be interacted with.
When used in conjunction with the "Fade" effect (or any Paint whose opacity has been lowered so the structures it is applied to become translucent), this feature enables learners to click on—and learn more about—underlying structures that they would not be able to click on otherwise. It can also be used to minimize distractions for the learner by only enabling them to click on structures that meet a specific set of learning objectives.
There are two ways to make an anatomical structure or group of structures unselectable:
---
1. Make

one

structure or

all but one

structure unselectable at the individual structure level
In the Anatomy Tree, click More Options to the right of the structure's name.
Hover over Selectable / Unselectable,

and select

Make Unselectable or Make Everything Else Unselectable.
2. Make

multiple

structures unselectable using the bulk actions menu
In the Anatomy Tree, find each structure or grouping you want to make unselectable by manually locating it in the tree or searching for it in the search bar.

Click on the name of each structure or grouping to select it while holding down the Shift key on your keyboard (this will enable you to select multiple choices at once).

A drop-down menu that says [#] Structures Selected will appear at the top of the Anatomy Tree. Click on it.

Hover over Selectable / Unselectable, and select Make Unselectable or Make Everything Else Unselectable.

Unselectable structures are surrounded by a dashed line to distinguish them from those that are selectable.