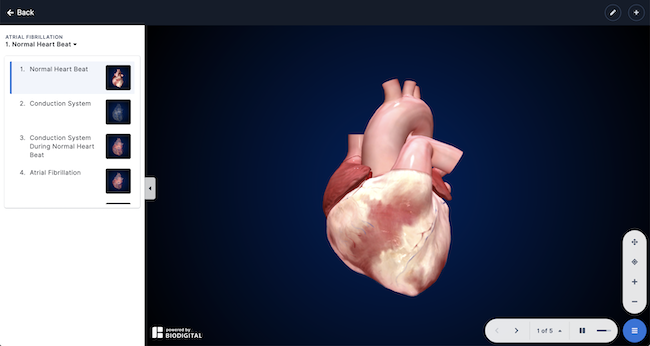 At its surface, a BioDigital Human tour is an embeddable slideshow of 3D interactive anatomy or health conditions.
But one level deeper, tours are one of the most powerful educational tools in the BioDigital Human's authoring toolkit. When used effectively, tours can simplify complex medical topics for audiences of all kinds, better engage learners, and increase knowledge retention.
For example:
Teachers can break down the nervous system into the central, peripheral, somatic, and autonomic nervous system into separate, easier-to-digest chapters

Doctors can visualize the progression from normal to inflamed joints for patients with arthritis

And pharmaceutical companies can show how asthma affects the respiratory system.
Any model in the BioDigital Human can become a tour! To learn how to build and edit your own tours, see the following articles:
The Human Library also offers many ready-made tours that you can save to My Library and start using immediately. Just look for the "Tour" tag when you are browsing our models in Explore.
Or look up "tour" in the search bar at the top of your screen to see a list of all of the tours in our library: