All new and existing users of the BioDigital Human and other BioDigital-powered applications are now required to verify their identity to provide an additional layer of account security.
How email verification works
When you sign up for an account or sign in with an existing account that has not yet been verified, we will send a verification code to the email address associated with your account. If you do not enter this code in our app where prompted, you will not be able to access your account.
To see if your account has been verified, navigate to our login page and attempt to log in. If you have not been verified yet, you will see a message asking you to verify your account.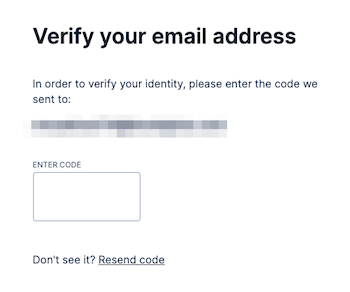 Troubleshooting tips
If you encounter an error message during the email verification process or are not receiving your verification email, there are a few steps you can take to troubleshoot:
Click Resend code on the "Verify your email address" page.
Check your Spam or Junk folder.
Refresh your email inbox to check for new emails.
Add @biodigital.com to your email contact list in case the email has been blocked, and then request another verification code.
Close the page, return to the login page, and attempt to log in again.
If you see an error that says your network or email has exceeded the maximum number of attempts for verification, wait the requested number of minutes and then request another verification code.
It's possible there was a typo in your email address. If you have already taken the steps above and believe there might have been a spelling error in the email address you entered, take the following steps:

Navigate to the login page.
Enter your email address (being sure to type it correctly) and click Next.
If you accidentally created your account with a misspelled email address, you will see an error message that says "Account not found."
If this occurs, return to the signup page and create your account again.
Still need help?
If you have tried the steps above with no success and you are subscribed to a paid plan*, take the steps below to submit a request to our Customer Experience team:
Click here and log in with your BioDigital Human account to open a support ticket.
Select I can't log in or access my account under Ticket Category.
Provide details of the issue under What can we help you with?
Attach a screenshot of the error(s) you are encountering to expedite the troubleshooting process.
Note: If you received a verification code in error (that is, you did not initiate the request), simply disregard the email. Without your verification code, the account cannot be verified.
*Direct support from our Customer Experience team is only available with a paid Individual, School, or Business plan. Learn more about contacting our team inHow do I contact Customer Support?, and compare our plans here.