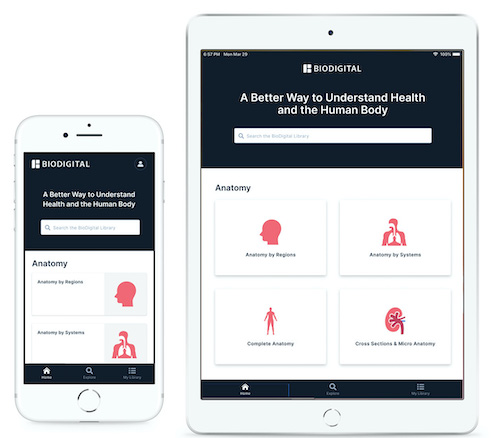 The BioDigital Human mobile apps give you access to almost everything you can get on the web app, including:
Explore
Browse our Human Library of over 1,000 interactive, 3D anatomy, physiology, health condition, and procedure models, or search by keyword.
My Library

Access your personal library of saved models.

Account
Update your profile, change your password, upgrade to a paid plan or cancel your plan, and manage your developer apps.
Team

Non-team members: Join a team
Team Administrators: Modify your team's profile and logo, manage (upgrade, downgrade, or remove) your team members, and invite new members.
Team Creators: View a list of team members and invite new members.

Settings
Change your language, delete your stored data (i.e., any models you have downloaded to your device), and access our Terms of Service and Privacy Policy.
Help

Search for articles in our Help Center and (if you have a Personal Plus, Individual Premium, School, or Business account*) submit a request to our Customer Experience team.
Plus, with our mobile apps you get the added benefit of offline access. You will just need an Internet connection to download each model you want to view. When you open a model, it gets stored locally on your device, and then you can load it anytime you want – no Internet connection required!
Note: Human Studio, publishing, and 3D model management are not available on mobile, only desktop.
*Read more about contacting the BioDigital Customer Experience team.