Welcome to the BioDigital Human!
Use this guide to get your team account up and running, and start discovering, customizing, and publishing views of human anatomy, physiology, diseases, and treatments in interactive 3D.
If your time is limited, check out our introductory video below, The Complete Guide to the BioDigital Human. This 13-minute video will teach you the majority of what you need to know to use the app with your team and set you up for success.
Customize your team's workspace
First, if your organization has a logo, upload it to your team settings to give My Library a personal touch.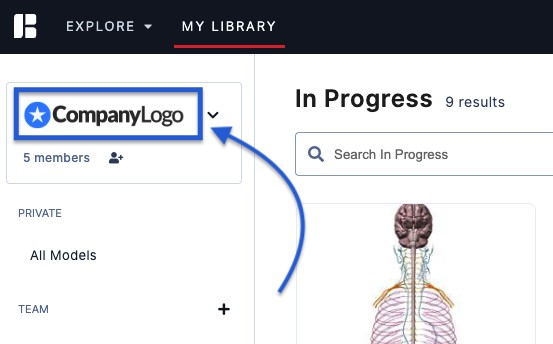 Next, consider adding collections—or custom folders— to the "Team" section of My Library so your team can organize and easily locate your saved 3D models. Your collections should support your team's content curation process, so think about how you work. Examples of collection "themes" include department, body system, course, instructor, and product title. No need to rush this step—you can add collections at any time.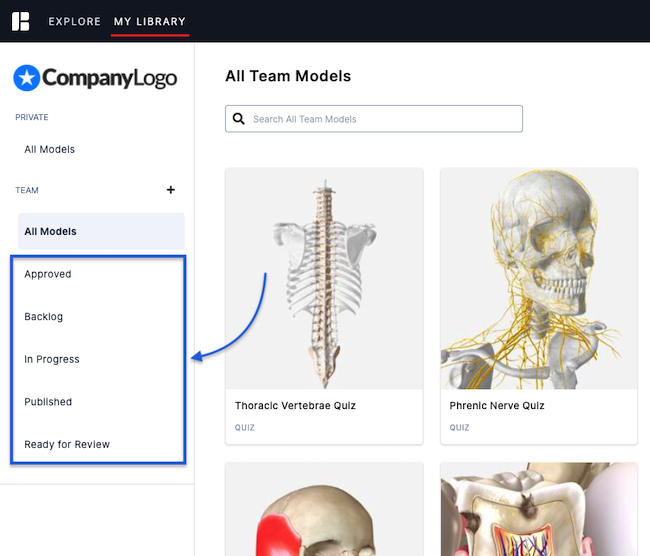 To add a new collection to My Library, take the following steps (also available in Add a new collection to My Library):
Navigate to My Library in your account.
Click on the Add a New Collection button next to Team on the left.
Enter a name for your collection in the New collection window that appears.
Click Create Collection.
Collections will appear in alphabetical order in the menu under Team: All Models.
Note: Only team Administrators can upload a team logo and create and manage collections in My Library. If you need to be upgraded to the Administrator role, contact the sales specialist who originally set up your account.
Invite people to your team
Now that you have set up your team's workspace, it's time to start collaborating!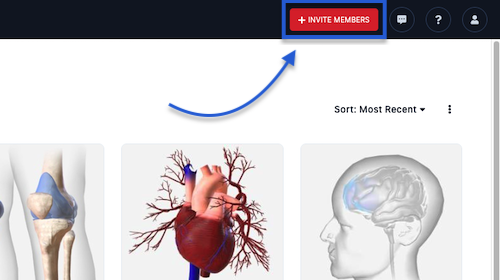 You can invite members to your team from one of three places:
In the navigation bar at the top of most pages (homepage, Explore, My Library, Account, Team, and Settings).
On the Team page, which you can access by clicking on the   profile icon in the navigation bar and selecting Team.
On the My Library page under your team's logo. (This option will not appear if you did not add a logo above.)
When you invite members to your team, you are asked to assign one of three roles to the users: Administrator, Creator, or Viewer. The "Creator" role is well suited to most users and situations, but we recommend learning more about your options in About team member roles and permissions.
Browse our library for relevant 3D models
Select a model on the homepage or jump right to the Explore tab in the top navigation menu to start browsing the Human Library, our ever-expanding database of anatomy, physiology, disease, and treatment models.
Browse by category, search by keyword, and use filters to refine your search. Learn more in the video below.
Save 3D models to your team's library
Once you start finding 3D models you might want to use in your learning materials, save them to My Library so you can customize or publish them later.
To save a model as is to My Library:
In Explore, hover over the model's tile and click View.
Click the  Add to My Library button in the top navigation bar.
Choose your model's permission settings click Save.
You can also save a model directly from Explore. Simply hover over the model's tile and click  Add to My Library.
Tip: Want to make changes to your 3D model?

Use our robust authoring tools in Human Studio to highlight key structures through paint colors and effects, add interactive labels, upload complementary images, build your own virtual tours, or turn your model into an interactive quiz.

To get started, look for the   Customize in Studio icon on the model's preview tile in Explore or My Library, or in the top menu when you open your model.
Publish your 3D models
Once you know which 3D models you want to use in your learning materials and where they should go, publish them as an embed code or a direct link (what's the difference?) and insert them directly into your website, app, course, or virtually any digital resource.
Expand your knowledge
Additional learning resources
Now that you have learned the basics, keep learning about the BioDigital Human with the following resources:
Technical support resources